Our unique services

Native English speakers.


Diagnosis at first treatment with iDXA Total Bodyscan or ultrasound.


Free spinal screening every friday from 16.00 - 16.30.


Shockwave therapy is included in the treatment at no extra cost.


Free electronic massagetables.


ParaMon healthkiosk (checks bloodpressure, BMI, weight and heart rate).


Individual report of findings for both patient and medical doctor.


We developed an online excercise programme exclusively for our patients.


No waiting list, open 6 days a week including evenings and weekends.
Feedback from our patients

Super medewerkers en zeer goede behandelingen. Mijn klachten zijn veel minder. Klantvriendelijkheid staat erg hoog in het vaandel. Ik rijd er graag 30 km voor om hier patiënt te kunnen zijn.
Dieke de Laat - Den Bosch (ware foto)

Ons zoontje Ryan gaat hier naartoe sinds hij een jaar is en we zijn helemaal tevreden. Hij slaapt goed en vooral, zijn motoriek is flink verbeterd! Dus ook zeer goed voor kinderen/baby's!
Nicole Haex - Weert (ware foto)

Top snel resultaat ben er zo blij mee
Monique Sauve

Ik kom al jaren en kan niet meer zonder. In het begin vooral pijnbestrijding en nu elke paar maanden onderhoud. Ik had al jaren last van stijve gewrichten en pijn in nek/schouders. Alles verleden tijd. Fijn!
Anne Raaymakers - Eindhoven (ware foto)

Was ik nooit bij de chiropractor geweest, dan zou het voor mij er niet zo goed hebben uit gezien. Ik was bij vele artsen geweest, die vertelden mij: "Uw rug is heel slecht, u moet er maar mee leren leven ............"
Mevr. Verheijden - Weert
Ben al sinds de jaren '90 in behandeling en voel me telkens als ik er geweest ben als herboren. Wil dan ook mijn dankbaarheid voor de geboden zorg op deze plaats bieden.
Jacques Scholtes - Weert

Zeer tevreden over de behandelingen en over de medewerkers. Een echte aanrader.
Annelies van Bergen

Inderdaad een aanrader! Onvoorstelbaar wat ze allemaal voor je doen en ze zijn zo vriendelijk. Ik ben hier erg enthousiast over!
Audrey Gielen
Our chiropractors (Native English speakers)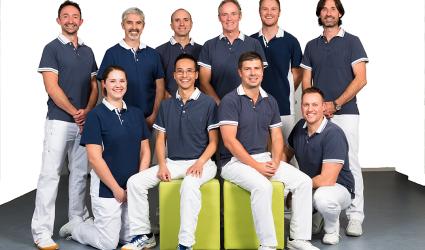 Chiropractic Team